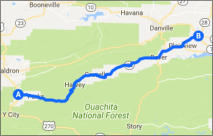 This 56 mile ride follows AR 28 through the Ouachita National Forest N.E. of
Mena.
Lots of sweepers and a number of switchbacks keeps this ride very interesting.
Cedar Creek Run - 56 miles (Arkansas)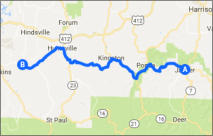 This 59 mile ride begins in Jasper and follows one of Arkansas best roads,
AR 74. You'll ride through the heart of the Buffalo River Scenic area and offers
some challenging curves and switchbacks.
Jasper to Wesley - 59 miles (Arkansas)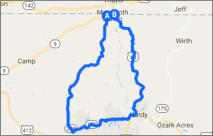 This 45 mile ride begins at

Mammoth Spring State Park

, Arkansas's largest
spring and the second largest spring in the Ozark Mountains and is a National
Natural Landmark.
Mammoth Spring Loop - 45 miles (Arkansas)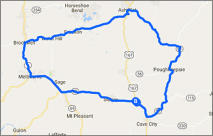 This 80 mile ride loops the historic town of Evening Shade. It offers some
terrific vistas and plenty of sweeping curves to keep anyones interest.
Evening Shade Loop - 80 miles (Arkansas)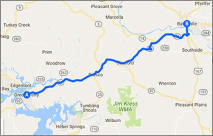 This 40 mile ride runs along AR 92 and AR 25 and features nice long sweepers
making it an ideal ride for the Sports Bike enthusiast.
Greers Ferry to Batesville - 40 miles (Arkansas)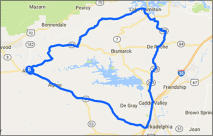 This 79 mile ride covers the extreme southern portion of the Ozarks, and
circles the DeGray Lake area. It offers road conditions that will please any
rider skill level.
DeGray Lake Loop - 79 miles (Arkansas)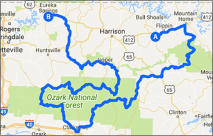 This 368 mile ride covers the best of Arkansas, and is best broken up into a
two day ride. If you want to experience all you can in a couple of days, then
this is your ride.
The Whole Hog - 368 miles (Arkansas)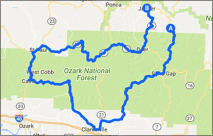 This 168 mile ride is a shorter alternative to the

Whole Hog Ride

. It still covers
some of the best scenery and roads that Arkansas has to offer, but just not as
long of a ride.
The Piglet Run - 168 miles (Arkansas)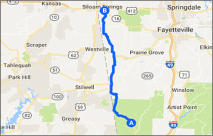 This 44 mile ride begins at Arkansas Natural Dam, one of the easiest accessed
natural waterfalls in Arkansas. Located about 15 miles north of Van Buren in
the Boston Mountains.
Natural Dam Run - 44 miles (Arkansas)
Arkansas Ride Maps -

Page 4















Copyright

©

2023 - Ozark Rides, All Rights Reserved




* Arkansas does not require riders to wear a DOT approved helmet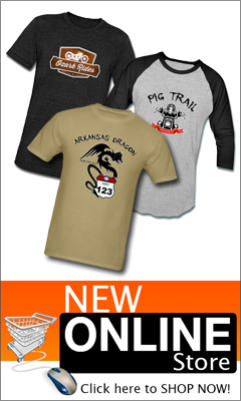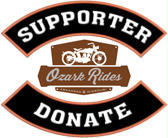 Get Access & Benefits!
Become a Patron!