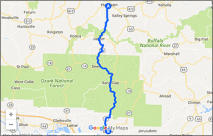 This 75 mile ride takes you down one of Arkansas most popular roads (Scenic
Byway AR 7). The ride has something for everyone, including the Arkansas
Grand Canyon.
Harrison to Dover - 75 miles (Arkansas)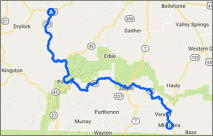 This 45 mile ride covers the scenic AR 74 and AR 103 and the twistie roads
north of Mt. Judea, very fun ride.
Osage to Mt. Judea - 34 miles (Arkansas)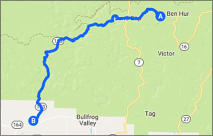 This 33 mile ride starts at the famous

Pedestal Rock Scenic Area

and concludes
in Hagarville. This is one of the funnest rides that Arkansas has to offer.
Pedestal Rock to Hagarville - 33 miles (Arkansas)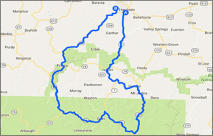 This 109 mile ride "The Ozark Moonshine Run" is without a doubt the most
picturesque route in the Ozarks! The route encompasses parts of Scenic
Highway 7 and winds through the deepest parts of the Ozark Mountains.
Ozark Moonshine Run - 109 miles (Arkansas)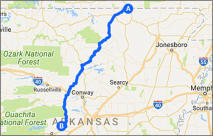 This 193 mile ride skirts the eastern side of the Ozarks and is a really fun ride,
as it offers a little bit of everything for every style of riding.
Mammoth Springs to Owensville - 193 miles (Arkansas)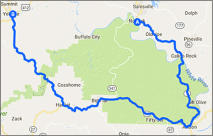 This 82 mile ride is a nice alternative to the

Push Mountain Loop

, as it runs
around and through the St. Francis National Forest.
Norfork to Yellville - 82 miles (Arkansas)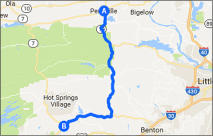 This is a great ride in that the scenery provides lots of forests with hills and
curves, and is a logging road for local loggers. This run is a nice relaxing ride
with good quality pavement, long sweepers and some nice elevation changes
making for a fun ride.
Toad Suck Run - 45 miles (Arkansas)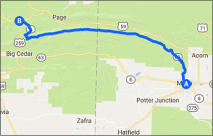 This 52 mile ride covers the entire length of the Talimena Scenic Drive including
crossing into Oklahoma.
Talimena Scenic Drive - 52 miles (Arkansas)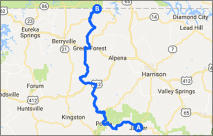 This 63 mile ride covers the very scenic AR 74 and AR 103 to the southern
Missouri town of Blue Eye.
Jasper to Blue Eye - 63 miles (Arkansas)
Arkansas Ride Maps -

Page 2















Copyright

©

2023 - Ozark Rides, All Rights Reserved




* Arkansas does not require riders to wear a DOT approved helmet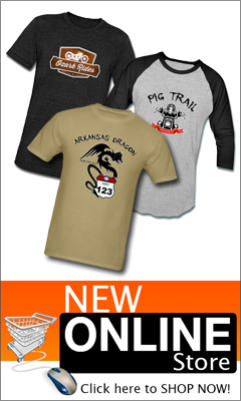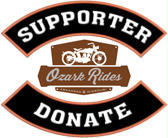 Get Access & Benefits!
Become a Patron!